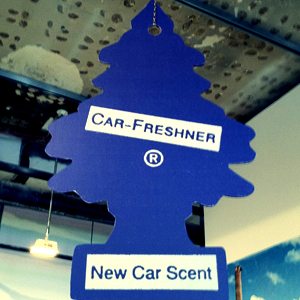 TWiP #225 – Air Fresheners on Mount Olympus
This week on TWiP: The Olympus story continues to unfold, Getty gets a whiff of some pine-scented lawsuit, and the Thailand floods hinder production at Nikon, Sony and More.
Hosts: Frederick Van Johnson, Sara France, Alex Lindsay and Ron Brinkmann
UPDATE
Last week, we talked about the troubles at Olympus, which began with the ouster of CEO Michael Woodruff. Now, the story "got so much better this week," as Alex puts it. In this week on "As The Olympus Turns," Alex goes through the various travails that Olympus is going through.
Alex describes how payments of $1.5 billion are being called into question, while Michael Woodruff would like to return to Olympus to help steer the company. Ron updates the story with news about Tsuyoshi Kikukawa's (the President and Chairman of Olympus) resignation. Comparisons are made to Netflix and their Qwikster debacle. Frederick points out that our industry needs some dirty scandal and thanks Olympus for bringing it to the table.
Alex and Ron talk about recent revelations about possible Yakuza and other underworld ties to Olympus and throw in a nice side-discussion on the nightlife and noodle joints in Roppongi.
NEWS & DISCUSSION
Getty Loses Round in Trademark Infringement Case
Getty Images has lost a round in court against Car-Freshner Corporation, the marketer of the pine-tree shaped air fresheners that hang from your rearview mirror. Car-Freshner sued Getty in 2009 for unauthorized use of trademark, because Getty used its so-called Tree Mark fresheners in a series of stock photographs. Ron points out that this is kind of scary. "At what point do you have to worry about any recognizable trademarked brand showing up in a photo you take?"
The discussion steers towards how the copyright model as it stands right now is broken. Alex describes how he spends an inordinate amount of time making sure they don't include shots of logos when he shoots.
He draws parallels between this story and the recent settlement between photographer David LaChapelle and singer Rihanna, where LaChapelle sued Rihanna for copyright violation as he claimed that the video for her single "S&M" was derived from his images. The hosts touch on topics related to copyright and trademark infringement, including the problems surrounding orphaned works and more.
Alex rounds it up with an analogy about the music industry. "The absurdity of what the music industry was doing basically killed it, because people just stopped caring. They stopped caring whether it was legal or not… that might be what it looks like when it's broken."
A new fund is set up to honor Chris Hondros, photojournalist.
Popphoto.com reports:
Getty photojournalist Chris Hondros was tragically killed in Libya earlier this year, capturing images of the conflict up until his death. The Chris Hondros fund was set up in his memory in order to "support and advance the work of photojournalists who espouse the legacy and vision of Chris Hondros and raise understanding of the issues facing those reporting from conflict zones through fellowships, grantmaking and education."
Frederick ties this into an important question. "In this era of cellphone journalism where every person out there has – especially with these new iPhones – a really good camera that they could take photos with, does it make sense for these professional photojournalists to be heading out to these war zones when there are people already there with capable cameras?"
The hosts and guests indulge in a spirited discussion about the economics of sending photojournalists out to these war zones, the biases of local citizen journalists vs professional news organizations and whether local, nonprofessional photojournalists have the skill of the pros to tell a story effectively – and whether the pros can sometimes use that skill to tell a story that doesn't exist (Alex has a great narrative about an experience he had in Africa on this).
Sara France mentioned having seen and being moved by "Restrepo", a film directed by photojournalist Tim Hetherington, who was killed along with Chris Hondros.
Floods in Thailand affect Sony, Nikon production.
The final story of the show revolves around the floods in Thailand and how Sony and (reportedly) Nikon have held back production and release of new items because of them. Frederick mentions that under most circumstances, "you read these stories and they don't seem real… they're not really affecting you directly."
However, this story has had a direct affect on photographers here, as Frederick found out at Calumet Photo in San Francisco. A batch of about seven Nikon D7000 boxes on the shelf at the camera store in San Francisco will be, as the store rep said, the last they get for the foreseeable future.
Photoweekly online reports that "Sony has announced that they will be delaying the launch of the upcoming NEX 7 and Reflex Alpha 65 cameras "indefinitely". Two of its three units in Thailand are shut down." Petapixel reports that the D800 announcement from Nikon was reportedly called off due to the floods as well. Alex describes the manufacturing process in the area in some detail, describing how the parts and products flow around places like Thailand and the economics of that process.
The discussion also goes into the mindset of gear purchases, whether it was necessary to go out and buy the latest and greatest gear right away and the problems of manufacturing being affected by natural disasters in general.
The topic veers off into an entertaining discussion on the causes of climate change. Ron wishes there was a theory that explained this change in the climate. Alex offers up overpopulation as a theory. Frederick says our poles are reversing as the magnetic fields surrounding the planet are about to flip.
LISTENER QUESTIONS
Question 1: TWiP Forum member Tusilame asks: "A friend of mine has a D3100 and I recommended he get a nifty 50 (50mm f1.8 lens). After he bought it he tells me that the lens is manual focus. Is it true that this lens is a manual focus lens? The Nikon specs say it has both Auto and Manual focus."
Frederick: The answer for this comes courtesy of our show notes writer, Sohail, who explains, "AF-D lenses require the camera to have a focusing motor in-body. The D3100 does not. AF-S lenses have their own focusing motor, so they will work on the D3000 and D5000 series (as well as the D40)."
Question 2:  TWiP Forum Member adambindslev asks, "I have a laptop and a desktop. The laptop is my "in the field" computer and the desktop holds my archive and is my main computer for editing photos etc. I have Adobe Lightroom installed on both machines. I need to be able to import photo when I am on assignment and do basic editing on the laptop – but I do really not want to maintain two seperate Lightroom archives – and dont want to have my laptop cluttered with a lot of photos. How do you handle this?"
Since Alex and Sara use Aperture, Frederick answers: Frederick's master Lightroom library (called his "Library of Congress") sits on a Drobo at home, while he keeps a Lightroom library that is shoot-specific on his laptop. He does his quick edits and keywording, etc., on the road.  When he gets home, he imports the shoot-specific library from his laptop into his home machine, so it comes in with keywords, crops, etc.
Then he gets rid of the library on the laptop. If there are shoots he wants to play with from his Library of Congress, he exports that shoot as a library from his Library of Congress, then takes that on his laptop on the go. Sara explains that the process is similar in Aperture; she can work on the highlight images and her studio manager can work on the rest, then the two projects can be merged.
Alex works the same way, keeping a location- or shoot-specific library on his laptop, then merging it with a master library on his master machine.
PICKS OF THE WEEK
Sara France - Exposed: Redefining Boudoir. Also, Shoot Dot Edit  www.shootdotedit.com Aperture workflow coming soon.
Alex Lindsay - the Lens Pen
Ron Brinkmann (via Frederick) – thisweekinphoto.com
Frederick - Buy your cables from Amazon.com! I got a 6ft mini USB to USB for .79¢!! Nikon HDMI cable… Keeble &Schuhat: $70, Amazon.com $7.00
WRAP UP
Follow us on twitter.com/ThisWeekInPhoto. Join the Flickr critique group. You can also join our Facebook group.
Sara France - http://www.sarafrance.com or http://www.twitter.com/sarafrance
Ron Brinkmann –  http://www.twitter.com/ronbrinkmann
Alex Lindsay - http://www.pixelcorps.tv or http://www.twitter.com/alexlindsay
Frederick Van Johnson - www.frederickvan.com or www.twitter.com/frederickvan or Google Plus
CREDITS
TWiP is brought to you by the following sponsor:
Squarespace.com, the fast and easy way to create a high-quality website or blog. For a free trial and 20% off your new account for six months, go to Squarespace.com, and use offer code TWIP10.
Pre-Production and Show notes by Sohail Mamdani www.sohailmamdani.com or www.twitter.com/sohailmamdani
Producers: Suzanne Llewellyn and Liana Lehua
Bandwidth provided by Cachefly
Intro Music by Scott Cannizzaro
Photo Credit: Canon